Dated: Aug 23, 2023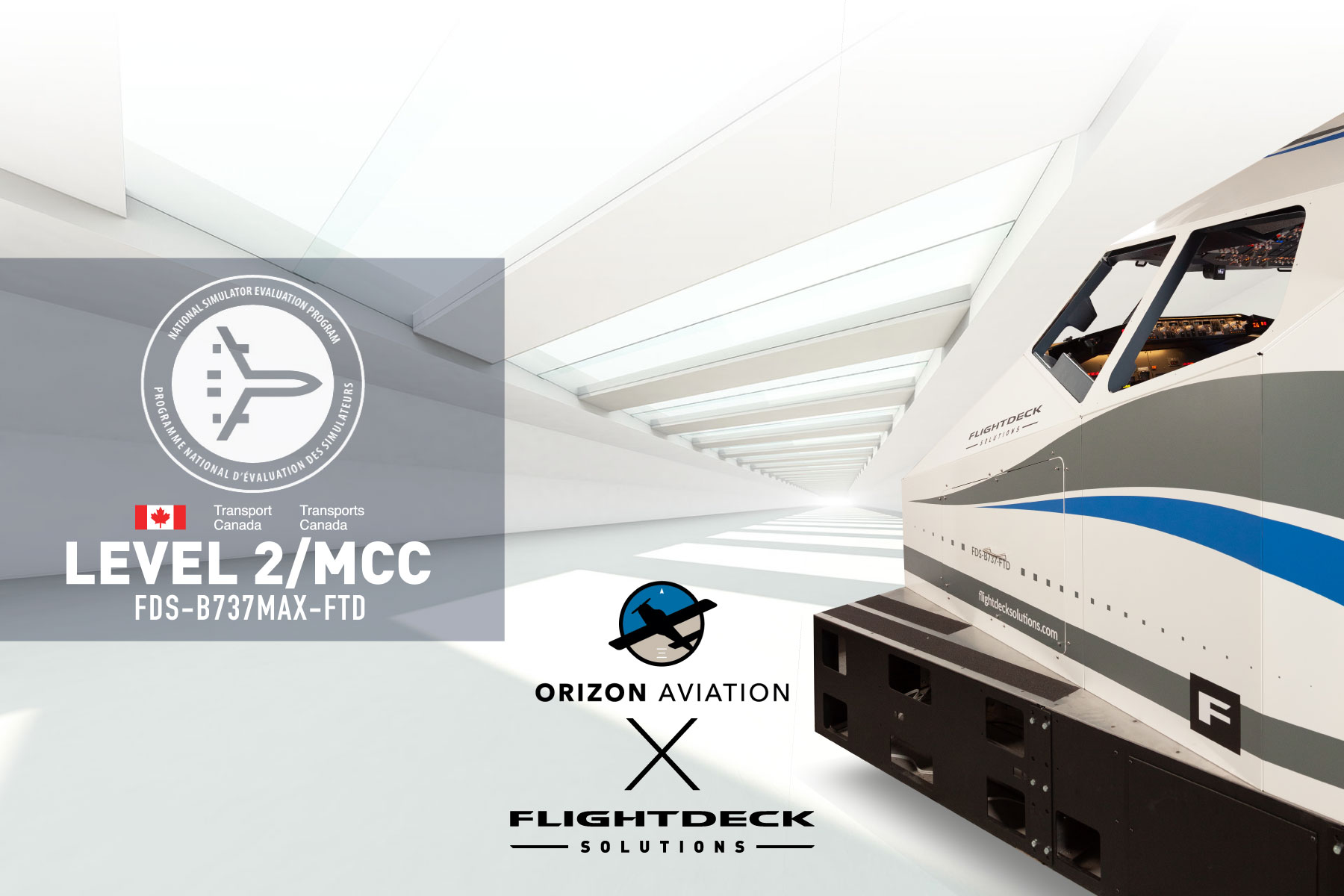 [NEWMARKET, ONTARIO, CANADA, August 18, 2023] – Canadian flight training device manufacturer Flightdeck Solutions Ltd. (FDS) and Canadian flight school Orizon Aviation Québec are proud to announce achieving Transport Canada Level 2/MCC certification for the school's recently deployed B737MAX flight training device. The certification opens doors to greater utilization of the device, allowing cadets and pilots to log flight hours while training.
The school, based out of the Quebec International Airport, began the certification process with Transport Canada shortly after receiving the FDS-B737MAX-FTD device earlier in the year. "Being able to offer training in our ATP-A (airline pilot) programs with an FDS 737MAX simulator allows us to strengthen our position and thus offer complete training that meets the needs of the industry" said Roger Samson, President of Orizon Aviation, adding that "Since the beginning of the adventure, the Flightdeck Solutions team has been open and attentive to our needs. The quality of the product is exceptional!"
In a statement regarding the collaboration with Orizon Aviation, Peter Cos, President of Flightdeck Solutions, remarked, "Roger's expertise in the pilot training arena made the certification process very smooth. We sincerely appreciate his invaluable contributions and support." This is the third FDS flight training device to receive certification this year. In April 2023, the FAA granted Level 4 FTD certification for the company's A320 device, and in July, their B737MAX device was awarded the FAA AATD certification.
About Orizon Aviation
Nestled within the prestigious precincts of Quebec International Airport since 2004, Orizon Aviation stands as a trailblazing flight school with a rich legacy of cultivating skilled aviators. With on-site examiner service, 20 aircraft, 3 flight simulators, and over 25 flight instructors, Orizon offers a diverse array of training programs, catering to both leisure enthusiasts and commercial pilot trajectories. In addition, the school offers aircraft rentals to licensed pilots, introductory flight packages for novices, as well as aerial excursion packages for scenic flights over the enchanting Quebec region.
Contact:
Roger Samson, President
418-877-2699
rsamson@oaqc.ca
www.orizonaviationqc.com