Dated: Sep 22, 2021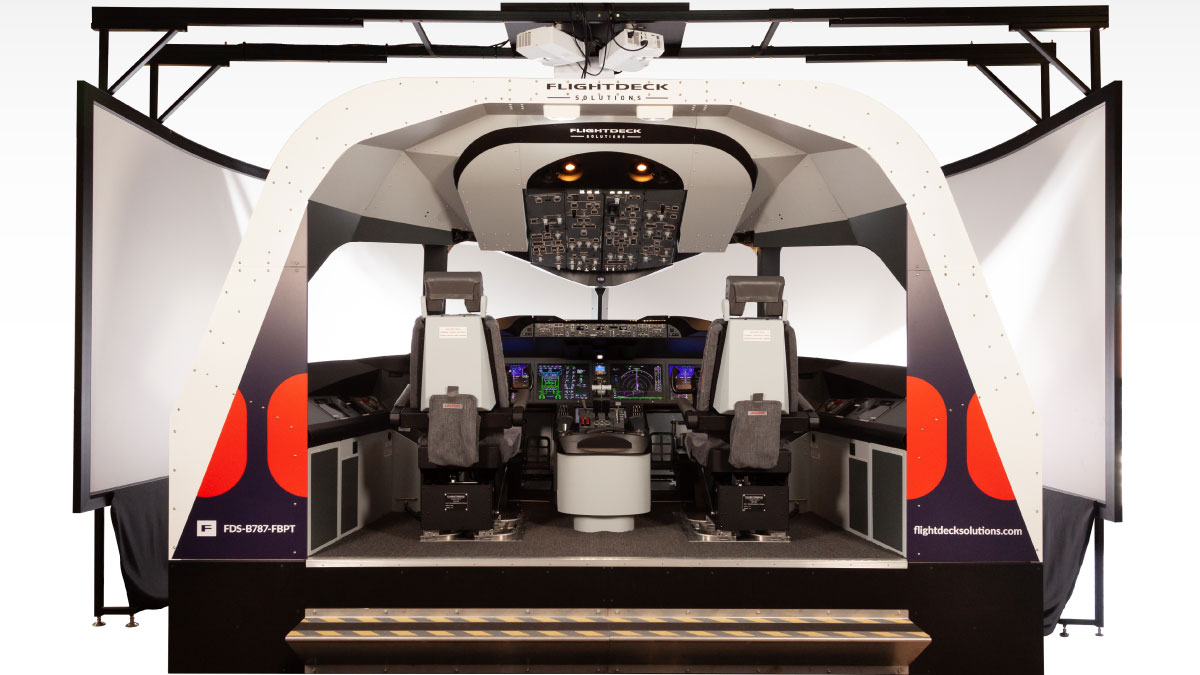 PRESS RELEASE
[NEWMARKET, ONTARIO, CANADA, September 22, 2021] - Flightdeck Solutions (FDS) announced today that it has received Level 4 certification from the Korea Office of Civil Aviation (KOCA) for the company's B787 flight training device mid August 2021. This positions FDS as one of the few global suppliers who are currently able to provide high fidelity B787 devices that smaller airlines, colleges, or flight schools can obtain without requiring exhaustive budgets.
The client, South Korea's newest carrier Air Premia, purchased the device in 2020 to bolster its pilot and crew training program as it prepared for the arrival of its Dreamliner fleet. "As a young airline, I believe Air Premia recognizes that although outsourcing a lot of the training is the norm for smaller carriers, having an in-house part task trainer such as our FDS-B787-FBPT gives pilots the proper prep time and solid feel for the aircraft prior to heading off to an FFS for their type rating or higher level training" said Peter Cos, President of Flightdeck Solutions. He added that "this not only dramatically reduces training costs, but gives pilots the ability to practice scenarios and hone their skills year-round, not just a few times per year, all while banking flight hours".
Delivery and setup of the FDS-B787-FBPT device proved a considerable challenge during 2020's world-wide COVID lockdowns. "We owe a big debt of gratitude to our Korean representative, Daehee Kim, for being instrumental in making this integration possible on location in South Korea, while our Canadian FDS team along with our partners Sim-Avionics and SimVis worked remotely", admitted Peter Cos. "Without Mr. Kim's involvement this project would have been in jeopardy of suffering significant delays, and Air Premia would have had a much tougher time preparing their pilots for the arrival of their Dreamliner fleet".
Flightdeck Solutions believes that, in general, pilots are not getting enough hours to practice and hone their skills, attributing this largely to the cost of the training devices. Recognizing that time in an FFS (or even a high-level certified fixed base trainer) inevitably comes with a hefty hourly cost, FDS feels that their fixed base devices, regardless of certification, are a perfect platform for recurrent training, scenario practice, and drills, which airlines can affordably offer their pilots.
About Flightdeck Solutions
Flightdeck Solutions (FDS) is a global provider to the aerospace and aviation industry for a wide range of flight simulation products and services. Over its 21-year history FDS has gained worldwide trust for producing high quality, immersive and fully tactile FTD trainers, becoming the solution of choice for companies and educational institutions around the world. With devices such as the B737MAX, B737NG, A320, B787, B777, and B747, and trusted by companies like Boeing, Honeywell, and CAE, FDS has built a reputation for providing both custom hardware solutions and turnkey offerings, delivering excellence in quality while maintaining financial responsibility.